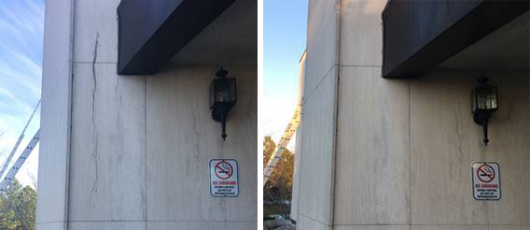 It is virtually impossible to replace a tile and get an exact match in color, as color will vary even within a quarry.  What appears to be a match to the eye initially will stand out as a subtle but obvious difference once installed.  This makes the "art" and "science" on in-situ chip and crack repair one of the hallmark differentiators for a master stone craftsman.
For more than 25 years, MARBLELIFE has been developing and refining the most efficient methods to care for hard surfaces such as our namesake Marble.
For a fraction of the cost of replacement we can restore a new uniform appearance to your damaged surfaces, whether they need chip repairs, crack repairs, wear removal, grout restoration or simply their periodic preventative maintenance.  Reach out to MARBLELIFE to care for your building's accents.  We will not only insure that the quality appearance and impressions for which the stone was first installed are intact, but also insure that your decision to reach out to MARBLELIFE reflects well on you.
As a franchisee our teams across the country assist home owners and commerical property owners overcome problems for which few have solutions.