Low-risk, high-gross margin, service-based franchise opportunities are in high demand, and MARBLELIFE® is one of the best. Smart entrepreneurs are locking down available MARBLELIFE® territories to secure their careers and financial futures.
Franchise Fee:
Initial franchise fees begin at $24,900 for a bolt-on franchise with a territory covering 400,000 people. The standard recommended stand alone market covering 1,000,000 people runs $47,900 and increment at $3,900 per additional 100,000 in population.
Standard Equipment Package:
Our standard start-up equipment and start-up inventory package runs $19,400.
A Marblelife Franchise Developer will be happy to answer your questions. Be sure to ask your Franchise Developer about financing sources and options such as 401K roll-overs, IRA, SBA loans, unsecured lines of credit and credit card financing.  You will also discuss the other details of your investment with your Franchise Developer as this part of the investment will vary from franchisee to franchisee.  Please see our Franchise Disclosure Document for the actual ranges of advertising, travel expenses to training and additional funds to start the business. 
Royalty:  6%
Ad-Fund:  2%
MARBLELIFE®'s investment model is designed to be scale-able, allowing a new business owner to expand his market and services over time.  Depending on your goals and your available capital you and your Franchise Developer will develop a launch plan that fits your goals and your needs. 
While we recommend you have a office, you are able to launch the business without a office and grow into the office over time. 
Existing business – Your existing business counts with us. If you have an existing business in the industry, you may qualify for a roll-in discount based on the size of your existing business.
VetFran discount – In recognition for service to our country, we offer a 10% discount off the initial franchise fee for honorably discharged veterans who satisfy the VetFran program guidelines.
Start-up costs -- Whether you're starting from scratch with the purchase of new equipment, vehicles, supplies, and marketing expenses, or simply rebranding your current business, we'll help you determine what you need to get started.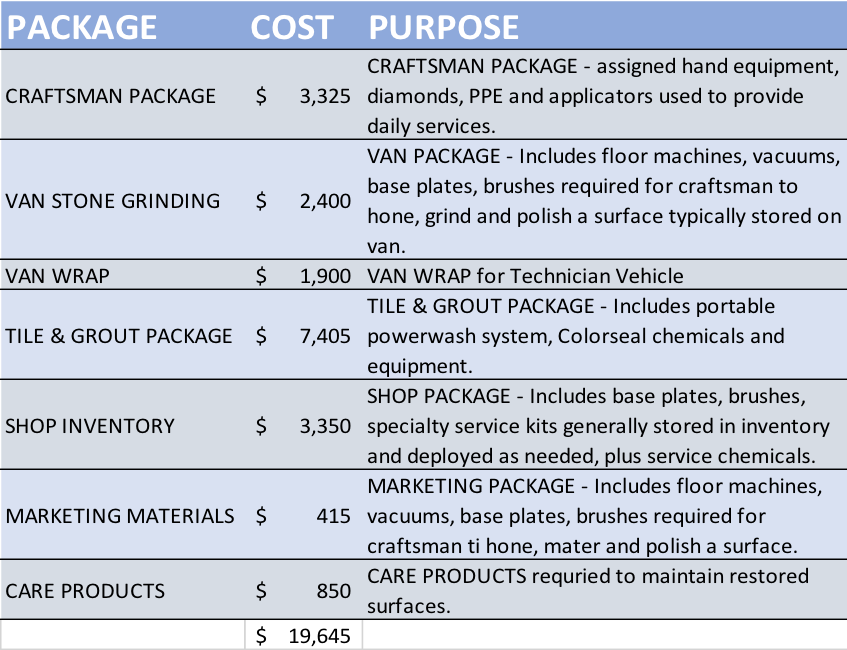 Estimated Soft Costs of MARBLELIFE Investment: