Low-risk, high-gross margin, service-based franchise opportunities are in high demand, and MARBLELIFE® is one of the best. Smart entrepreneurs are locking down available MARBLELIFE® territories to secure their careers and financial futures.
Start-up costs -- Whether you're starting from scratch with the purchase of new equipment, vehicles, supplies, and marketing expenses, or simply rebranding your current business, we'll help you determine what you need to get started.
Franchise Fee:
The standard recommended stand-alone market covering 1,000,000 people runs $53,300 and increments at $4,000 per additional 100,000 in population.  Franchise territories are generally based on counties, with the exception of New York City which is based on boroughs.
For existing service businesses looking to add MARBLELIFE services as a "bolt-on franchise," MARBLELIFE offers a smaller market size potential starting at $29,900 for a territory covering 400,000 people.   
Standard Equipment Package: 
Our standard start-up equipment and start-up inventory package runs $19,400.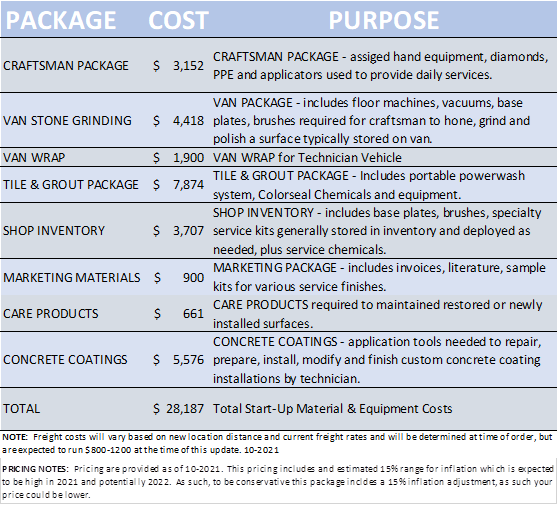 Building Needs:
Start from home.  You do NOT need an office to start your MARBLELIFE business.  Material and equipment can be stored in a garage or storage facility to start.  Vehicles can be GPS monitored and taken home by the techs allowing you to hire teams where the business is to further improve logistics, reduce fuel costs, place your van wrap advertising in the market versus outside an office, and make a company vehicle an employee benefit.  We believe it makes more sense to invest in marketing than to invest in building rent when first launching.
Vehicle Needs:
We recommend either a FORD TRANSIT CONNECT or a NISSAN 200NV as your service van.   Vehicles can be new or used with less than 50,000 miles and 5-years in age as long as they are clean, white, ding-free and rust-free.
Training Costs:
Training costs are free.  You only need to cover your travel to get to our training location, your hotel and your meals.  Whether you bring 1 or 10 technicians that training is free.  If we roll out a service the training is free.  Why?  We seek to reduce the costs needed to expand.  Our goals like yours are to increase sales as quickly and as efficiently as possible.  This facilitates the expansion of our teams.
Initial Marketing Costs:
We recommend on planning on investing up to $5,000 to initial marketing expenses.  This will cover direct mail, magazine, home shows and web marketing using proven MARBLELIFE marketing tools and tailored to your market.
Royalty & Ad-fund Fees:
MARBLELIFE collects 6% royalty and a 2% ad-fund fee on collected sales.  This means you do not pay royalties on sales until you have collected the funds, in this way you are assured that the timing of your royalties is always aligned with timing you received payment.
 This chart outlines the other expenses you can plan on encountering as you get your business set up. 

Do you have an Existing business? 
Your existing business counts with us. If you have an existing business in the industry, you may qualify for a roll-in discount based on the size of your existing business.
A MARBLELIFE franchisee benefits from central R&D and marketing, has a customized dashboard providing them marketing data and allowing them to see a variety of business metrics, plus accounting support, scheduling support, back-up phone support, tested marketing tools, established brand recognition, access to national accounts, all designed to enable the owner to focus more time on the 2 things that mean the most to growing a business – growing sales and managing your operational team providing the service.  An independent has to invest time doing all of these other elements themselves providing a MARBLELIFE franchise a potential time advantage.  If you are in the business, consider joining MARBLELIFE, and take advantage of the many benefits we provide our franchise partners.
VetFran discount
If you are a veteran, first THANK YOU for your service.  We would not be able to build the business we have without knowing America was well protected.  In recognition for service to our country, we offer a 10% discount off the initial franchise fee for honorably discharged veterans who satisfy the VetFran program guidelines.
Got Questions?
We all did.  A Marblelife Franchise Developer will be happy to answer your questions. Be sure to ask your Franchise Developer about financing sources and options such as 401K roll-overs, IRA, SBA loans, unsecured lines of credit and credit card financing.  Once you have decided this is the business for you, we can look at how to assist you in determining how to best fund your launch.  Please see our Franchise Disclosure Document for the actual ranges of advertising, travel expenses to training and additional funds to start the business.
MARBLELIFE®'s investment model is designed to be scale-able, allowing a new business owner to expand his market and services over time.  Depending on your goals and your available capital you and your Franchise Developer will develop a launch plan that fits your goals and your needs.