A New Business Opportunity For Carpet Cleaners
Are you tired of fighting for $0.40/sqft in the highly competitive carpet cleaning market?  How can you make your fortune, when so many others are seeking to provide the same service you are?
What if we could show you how to put your equipment to use to capture $4.00/sqft?  Do it with strong "WOW" before-and-after results, with free training, marketing support, pre-formulated-tested-and-refined web designs, proven lead sources, marketing materials, technical support and a national name?  With a partner that doesn't train you and wish you well, but only succeeds if you succeed.  Welcome to MARBLELIFE.
MARBLELIFE, the largest hard surface restoration and maintenance company in North America, is seeking to establish franchise locations in your neighborhood.  Restore marble, granite, ceramic, procelein, terrazzo, travertine, concrete and vinyl surfaces.  Provide novel solutions to clients that enhance the financial performance of their properties, versus me-too results.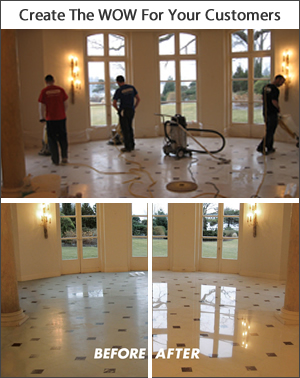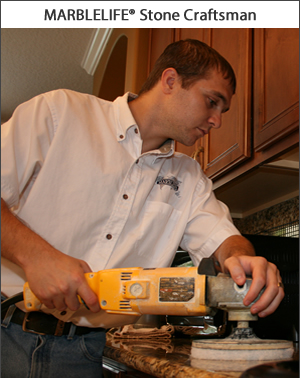 Tap into 25 years of experience, ongoing technical support, established marketing tools, national web presence that leverages the entire network to create a dominant position, manufactures its own care products, and even provides a path to partner with hardware stores to generate additional leads.
Whether you prefer to sell or to do the work, national accounts are out of reach to a single independent, but for a MARBLELIFE franchise you are able to sell national accounts, and to get leads from national accounts sold by other franchisees.
MARBLELIFE only opens a select few markets each year.  This year we are looking to enter this market.  If this sounds like the type of opportunity you hope to see your business benefit from fill out our qualification form here online, or give us a call.  We look forward to talking with you. 
We only look to open a few franchisees in each metro area, as such spaces are limited.  Submit your qualifications today.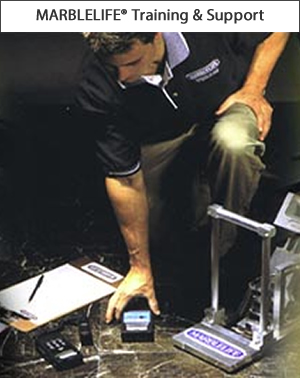 How Our Franchise Process Works
LIKE WHAT YOU SEE
If you like what you see, review the start-up requirements to launch a successful MARBLELIFE office and complete our contact form.
TALK TO US
We'll contact you ASAP, get your initial qualification information, and answer any questions you may have;
CHECK US OUT
Do your homework. Learn all you can about MARBLELIFE and your opportunity to join this niched market.
VISIT US
Discovery Day - Take a day and visit us at our corporate head quarters in Sanford, FL (just outside Orlando) Meet your future support team, learn about the opportunity, services, and support provided by MARBLELIFE
TAKE THE LEAP
Time to sign a Franchise agreement, officially join the largest hard surface restoration team in North America, and become business owners.

Are You A Good Fit?
Are you looking for a business you can be proud of?  A business that can deliver customer "WOW" visual results with solid margins, rising demand, plus the support a new business owner needs to launch? Then you are a fit.  Give us a call and explore what your life might be life as a MARBLELIFE business owner.

It Starts With Great Services That Are In Demand
We provide residential and commercial clients solutions to every day hard surface problems that work.  MARBLELIFE addresses the root cause, and solves the problem, and in doing so create better solutions and strong margins supported by high customer value.  We provide better ways for our clients to manage their hard surfaces.  From restoring marble to its original gloss or sheen, eliminating grout staining, replacing the never-ending wax-strip and repeat cycle on vinyl, polishing concrete to eliminate dusting problems, creating healthier interior environments at a fraction of the cost of replacement.  We deliver WOW results form clients every day.  Our only problem is that we need more salespeople and applicators.  We see the franchise model as the best path to delivering our services efficiently to our clients.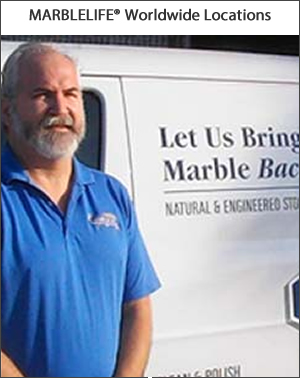 Ready To Learn More?
Unlike many service businesses a recession simply slows the growth of demand, for if but one sqft of additional tile is installed, or one building is built, unless people stop walking on floors, those hard surfaces are still wearing and the demand for our services is growing. With the recognition that indoor environments can contain more health hazards than the fresh air outdoors, the attention to maintaining a clean, easy to maintain, healthy indoor environment has never been greater. MARBLELIFE®'s portfolio of solutions and services address this need. Sure we are known for restoring marble to its original pristine and beautiful appearance, and taking on granite and terrazzo restorations that untrained independents are afraid to approach, but we also work with hospitals to reduce secondary infections through our tile restorations designed to prevent dirt and debris from entering otherwise porous grout, or our efforts to replace waxes with semi-permanent treatments that eliminate the need for buffing and scuffing.