A New Business Opportunity For Sales Professionals
You are good at what you do.  You customers love you and you are doing well.  It is only natural to wonder what you life would be like if you were selling for your own account, or operating on a high commission model versus a salary and bonus.  The rain makers land the national accounts - but how many of those do you see that have not already been sold?
We restore marble, granite, terrazzo, concrete, vinyl, ceramic and porcelain floors, vanities and walls for residential, medical, education, government, hotel and class A office buildings throughout North America.  We have created a series of unique solutions that don't just address the symptom but rather correct the root cause and result in significant and immediately observeable "WOW" results as you can see from a few of the before-and-after images here.  They have enabled MARBLELIFE to become the largest hard surface restoration and maintenance service company in North America already… and yet we need to quadruple our existing size in order to service all of our potential clients.  We already have a network sufficiently developed to enable us to service national clients, and are now looking for sales people interested in owning their own business, selling for their own account, and who can appreciate the impact landing a large national or regional account may have not just on their local business but their businesses earnings.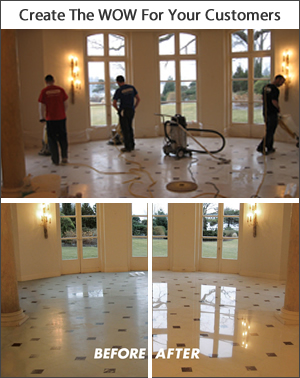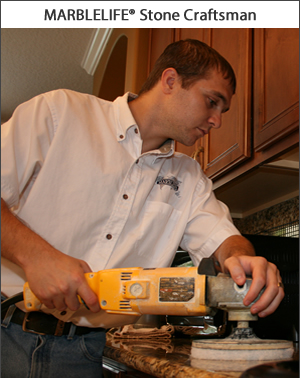 MARBLELIFE, the largest hard surface restoration and maintenance company in North America, is seeking to establish franchise locations in your neighborhood.  Restore marble, granite, ceramic, porcelein, terrazzo, travertine, concrete and vinyl surfaces.  Provide novel solutions to clients that enhance the financial performance of their properties, versus me-too results.  No experience is necessary as we provide free training, centrally source all materials, have national and local web presence programs, and marketing programs.  In a word everything but the local owner-sales leader.  Our model allows you to leverage our know-how and support infrastructure to launch a business with all the benefits of a large company support structure, and yet still make high margins and be able to benefit from commissions on national accounts.
Whether you prefer to sell or to do the work MARBLELIFE will provide the training to get you started, and the ongoing support to keep you at the leading edge as the market evolves.
MARBLELIFE only opens a select few markets each year.  This year we are looking to enter this market.  If this sounds like the type of opportunity that would allow you to capture the full value of your sales potential, and move you towards your dream of the financial freedom of owning your own business, fill out the qualification form here, and give us a call.  You could be selling for your own account in just a few short weeks.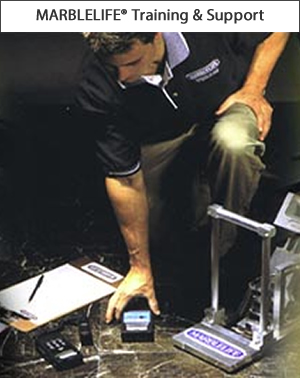 How Our Franchise Process Works
LIKE WHAT YOU SEE
If you like what you see, review the start-up requirements to launch a successful MARBLELIFE office and complete our contact form.
TALK TO US
We'll contact you ASAP, get your initial qualification information, and answer any questions you may have;
CHECK US OUT
Do your homework. Learn all you can about MARBLELIFE and your opportunity to join this niched market.
VISIT US
Discovery Day - Take a day and visit us at our corporate head quarters in Sanford, FL (just outside Orlando) Meet your future support team, learn about the opportunity, services, and support provided by MARBLELIFE
TAKE THE LEAP
Time to sign a Franchise agreement, officially join the largest hard surface restoration team in North America, and become business owners.

Are You A Good Fit?
Are you looking for a business you can be proud of?  A business that can deliver customer "WOW" visual results with solid margins, rising demand, plus the support a new business owner needs to launch? Then you are a fit.  Give us a call and explore what your life might be life as a MARBLELIFE business owner.

It Starts With Great Services That Are In Demand
We provide residential and commercial clients solutions to every day hard surface problems that work.  MARBLELIFE addresses the root cause, and solves the problem, and in doing so create better solutions and strong margins supported by high customer value.  We provide better ways for our clients to manage their hard surfaces.  From restoring marble to its original gloss or sheen, eliminating grout staining, replacing the never-ending wax-strip and repeat cycle on vinyl, polishing concrete to eliminate dusting problems, creating healthier interior environments at a fraction of the cost of replacement.  We deliver WOW results form clients every day.  Our only problem is that we need more salespeople and applicators.  We see the franchise model as the best path to delivering our services efficiently to our clients.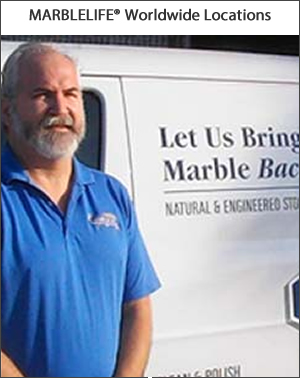 Ready To Learn More?
Unlike many service businesses a recession simply slows the growth of demand, for if but one sqft of additional tile is installed, or one building is built, unless people stop walking on floors, those hard surfaces are still wearing and the demand for our services is growing. With the recognition that indoor environments can contain more health hazards than the fresh air outdoors, the attention to maintaining a clean, easy to maintain, healthy indoor environment has never been greater. MARBLELIFE®'s portfolio of solutions and services address this need. Sure we are known for restoring marble to its original pristine and beautiful appearance, and taking on granite and terrazzo restorations that untrained independents are afraid to approach, but we also work with hospitals to reduce secondary infections through our tile restorations designed to prevent dirt and debris from entering otherwise porous grout, or our efforts to replace waxes with semi-permanent treatments that eliminate the need for buffing and scuffing.